Celebrating 10 Years International Uranium Film Festival
Next year, May 21st to 31st 2020 we're celebrating the 10th birthday of the International Uranium Film Festival and we want to bring the best nuclear films and its filmmakers from the last ten years together with new productions to Rio de Janeiro. The venue will be like in the years before the Cinematheque of Rio de Janeiro's prestigious Modern Art Museum (MAM Rio). Already more than 25 awarded filmmakers and producers from 12 countries agreed to come to Rio in 2020. 
Nuclear Power & Climate Change
In addition to the screenings of dozens of nuclear films this in the world unique film festival about the atomic age is planning a powerful panel on one of the most important questions of our time: Climate Change and Nuclear Power. Are nuclear power plants a solution to global warming?
Join us and help the Uranium Film Festival to celebrate its tenth anniversary. Whether you are for or against the use of nuclear power or uranium: Everyone should be aware of the radioactive risks.  Make a mark and contribute to the festival.
ATOMIC FILMS AND FESTIVAL SPONSORS WANTED
The Uranium Film Festival's call for entries for 2020 is sill open. Filmmakers and producers can send their documentaries, animations, non-fiction or experimental movies until 1 January 2020. In addition the festival invites the media and social or environmentally conscious companies as festival sponsors and partners. 
DONATE NOW with PayPal
"We founded the International Uranium Film Festival in 2010 just a few months before Fukushima especially to ensure that atomic disasters such as Chernobyl or the horror of nuclear bomb  attacks and nuclear bomb tests are not forgotten nor repeated," recalls festival director Norbert G. Suchanek. "When we published our first call for entry, very surprisingly one of the first productions we received and awarded was the extraordinary short film Atomic Bombs On The Planet Earth by Peter Greenaway. Since that we have shown more than 200 nuclear films from around the globe until today."
The first edition of the International Uranium Film Festival was held in May 2011 in Rio de Janeiro. Since that it became quickly the world's premier annual film event about nuclear power and all radioactive risks, from uranium mining to nuclear waste, from Hiroshima to Fukushima. It is today a global event highlighting nuclear awareness. Uranium Film Festival were organized already in 7 countries more than 40 cities around the globe, from Rio to Berlin, Washington DC, New York, Hollywood, Santa Fe, Window Rock, New Delhi, Mumbai, Amman, Quebec and Montreal; from Brazil to Germany, USA, India, Portugal, Jordan and Canada. And film journalists already called it the "Atomic Cannes".
Márcia Gomes de Oliveira, Uranium Film Festival co-founder & executive director in front of the Modern Art Museum of Rio (MAM Rio).
Every penny collected during this campaign will be used to organize the film festival and to bring as many filmmakers as possible to Rio. The more support we get the more filmmakers we can invite and the better and the more impact will have the festival to achieve one of our major goals: nuclear awareness. Any additional funds beyond that goal will help us to organize the festival in other locations too. Like in the years before, further Uranium Film Festivals are also planned in other countries like USA, Germany (Berlin), Portugal, Spain and Greenland. Environmental conscious people and nuclear activists around the world are eager to have the Uranium Film Festival in their country to support their nuclear campaigns against (for example) planned uranium mines like in Spain and Greenland or for the clean-up of abandoned uranium mines in the USA or Portugal.
DONATE NOW with PayPal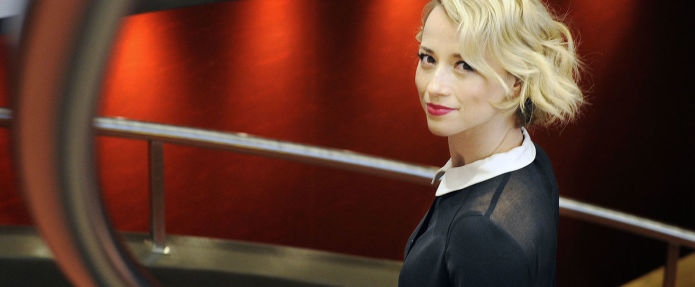 French-Canadian Actress Karine Vanasse attending the International Uranium Film Festival 2015 in Quebec.
What others are saying
Esai Morales, Actor and Activist:  "The Uranium Film Festival is necessary, you cannot see radiation ...  but don't be afraid, the Uranium Film Festival is not radioactive."
Arabunna elder Peter Watts, Arabunna elder, Australia: "Thank you so much for showing these film. You have to bring the films to Australia. And we can make a positive change ..."
Libbe HaLevy, Nuclear Hotseat producer:  "What an event! Such a deep, meaningful, fulfilling experience at the International Uranium Film Festival."
Claus Biegert, Filmmaker and Founder of  the Nuclear-Free Future Award: "I have witnessed the emergence of the Uranium Film Festival. The festival makes a big contribution against forgetting. It is very important that the atomic age ends. We humans started it. That is why it is up to us all to finish it. The Uranium Film Festival helps us do that."
Prof. Manfred Mohr, German ICBUW spokesman: "Uranium Film Festival should receive a Prize, may be the Alternative Nobel Peace Prize."
Arend de Haas, Director, African Conservation Foundation: "What a wonderful initiative, the Uranium Film Festival. Extremely important to show these messages. It would be good if the film festival could come to Tanzania and other African countries."
Courtney Sheehan (University of Texas) / NECSUS: The Uranium Film Festival (UFF), the world's only film festival focused on 'the whole nuclear fuel chain', is entering its third year in Rio de Janeiro.
Magnus Isacsson, Documentary Field Notes and Flashpoints. Uranium film festival of Brazil. As Brazil is not known for its uranium or nuclear industry, I found this intriguing...
Jeff Spitz, Filmmaker and director of "The Return of Navajo Boy": "Congratulations! We are so pleased to see you growing and expanding the audiences for these films. Bravo! You are a force of nature!" 
Noel Lyn Smith, Farmington Daily Times:  Film festival highlights uranium's impact on tribal lands.
In Rio de Janeiro the Uranium Film Festival is supported since 2011 by the Rio de Janeiro's FAETEC State school for film, cinema, TV, dance and events (Adolpho Bloch). FAETEC students serve also as festival volunteers. During the festival they can practice their skills and meet international filmmakers and producers. Further supporters are the Cinematheque of Rio's Modern Art Museum (MAM Rio), the local bars and restaurants in Santa Teresa, Bar do Mineiro, Armazém São Thiago e Esquina de Santa and Rio de Janeiro's best cachaça producer Cachaça Magnífica.
Photo: Festival volunteers and the founders of the Uranium Film Festival in the centre.
Thank you so much for your donation and supporting the festival. 
Marcia Gomes de Oliveira and Norbert G. Suchanek
Founder and directors of the Uranium Film Festival
Donation via Bank transfer to
Name: Norbert Suchanek / Uranium Film Festival
Bank: GLS Gemeinschaftsbank Bochum / Germany
BIC: GENODEM1GLS
IBAN: DE80 4306 0967 7007 8348 00  
Please contact us for general information and sponsorship
International Uranium Film Festival
Rua Monte Alegre 356 / 301Santa Teresa / Rio de Janeiro / RJ
CEP 20240-195   /  Brasil
www.uraniumfilmfestival.org
Email:
info@uraniumfilmfestival.org